A Few of Our Clients
Here are a few of our clients with descriptions of some of the special features we have integrated into their websites. Each customer has different goals and as you will see we match the right technologies to help them reach them.
Massachusetts Society of Radiologic Technologists
The MSRT website features the aMember membership application directly integrated.  This allows for members to choose and pay for various membership levels.  The application securely stores personalized documents and provides a members-only protected area for special content.
Bartley Machine & Manufacturing Inc.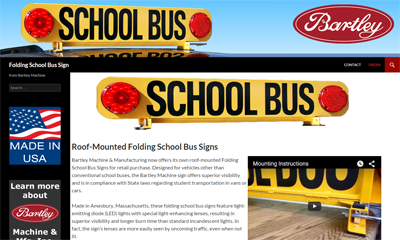 Bartley Machine & Manufacturing includes embedded video as well as full eCommerce capabilities for customers to order and purchase online.  The site is integrated with a PayPal secure payment gateway which ensures security and PCI compliance.
Amesbury Chamber of Commerce
The Amesbury Chamber of Commerce utilizes several forms and an online membership directory.
DBS Forms Inc.
The goal of this site is to drive customers to their integrated "Request a Quote" form.  SEO (Search Engine Optimization) is built into this site with automatic updates to Google, Yahoo and Bing.  Google Maps are integrated for easy driving directions as well.
The Childrens Castle Inc.

The Childrens Castle of West Newbury, MA makes use of a responsive design to ensure parents and prospects can access their website from any device.  The site features Facebook content and regular posts by teachers. A prominent and embedded calendar makes it easy for parents to know important dates.
TAG Manufacturing Inc.
TAG Manufacturing utilizes embedded sliders and photo galleries to show samples of their work as well as the cutting edge technologies they possess.
The Bridge Band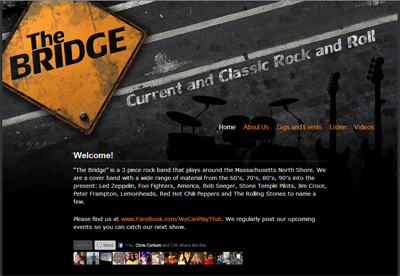 The Bridge is a rock band out of Newburyport, MA.  This site utilizes embedded video and audio players.  There is also an integrated mailing list for fans to subscribe right on the landing page.
Connecticut Society of Radiologic Technologists
The Connecticut Society of Radiologic Technologists features embedded RSS (news) feeds from important medical sources.  The site is directly integrated with aMember allowing members to register and pay for memberships through a secure and PCI compliant PayPal payment gateway.